7 Major Reasons To Avoid Credit Card Based Consumer Loans
by Chris Hopkins, on Sep 4, 2020 8:52:01 AM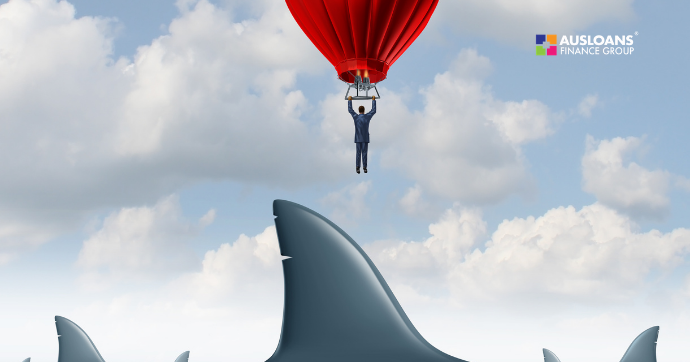 Offering your customers an option to pay for your product or service via a finance option has many benefits to your business.
Buy Now, Pay Later or credit card finance is fast becoming the go-to for many businesses today as a means of encouraging their customers to buy, and potentially increase their order value and complete sales. As these forms of finance options are continuing to grow it makes sense to get on board or get left behind.
However, is offering credit card-based finance a good choice for your customers and does it fit into your business model?
Here we explore this question in detail, looking at how credit card based customer financing works. In particular, we look at the disadvantages of using a credit card based solution for your customer financing needs and explore an alternative that will keep your customers smiling and put more money in your pocket.
So let's get started.
Quick links
How credit card based finance works
Credit-card based finance is essentially a type of finance loan in which retailers' team up with a finance company to provide 'buy now, pay later' finance. Generally, the package deal is 'No deposit and up to 2 years interest-free'. However, terms and interest-free periods will vary across different product and or service offerings and lenders.
The loan is generally facilitated by a credit card company, once the customer completes an application and satisfies the requirements a credit card is issued.
There usually are two options when your customer enters a credit card finance facility. Either they make regular payments during an interest-free payment period, or you have a deferred repayment period where you don't have to make any repayments until the end of the interest-free term.
On the surface a credit card finance option is an attractive proposition for your customers and certainly provides a way to allow your customers to spread their payments over a period of time, however, they can catch your customer off guard with the terms and conditions that apply, ultimately costing your customers much more than they bargained on paying.
Here are 7 reasons credit card based finance may not be the right fit for you or your customer.
7 reasons to avoid credit card finance for your customers

1. Interest rates
The biggest sting in the tail of a credit-card based financing option is once the interest-free period ends interest is added to the remaining amount. Purchase and cash advance interest rates can be as high as 22% p.a., so your customers can end up paying hundreds or thousands more than they initially anticipated paying in interest if they're unable to make repayments each month. As a business, selling your customers into a debt trap is not going to help you leverage your customers for both referral and repeat business.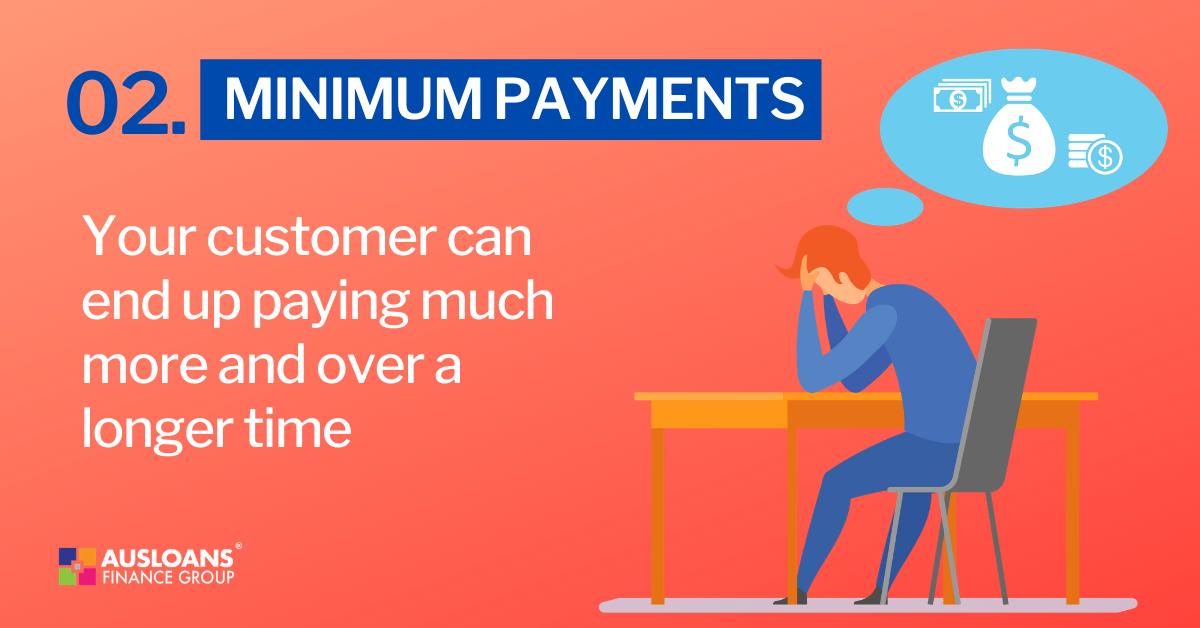 2. Minimum payments
There is no denying that advertising no payments for 12 months or interest-free periods are a great customer magnet. Interest-free credit card deals seem great – buy something now, pay for it later–, but they are fraught with traps.
In most cases, the low monthly repayments on offer do not allow your customer to pay out the loan amount during the interest-free period. The result once again is that your customer ends up paying off your product over a much longer time, while also paying much more for your product than they bargained for.

3. Credit score damage
A poor credit score history commonly results from missed or late payments on credit cards. It is expected that the customer will take responsibility in keeping up with regular payments to pay off the debt, however, this is not always the case. Credit card debt can become a burden for your customer and in some cases, could affect your future relationship.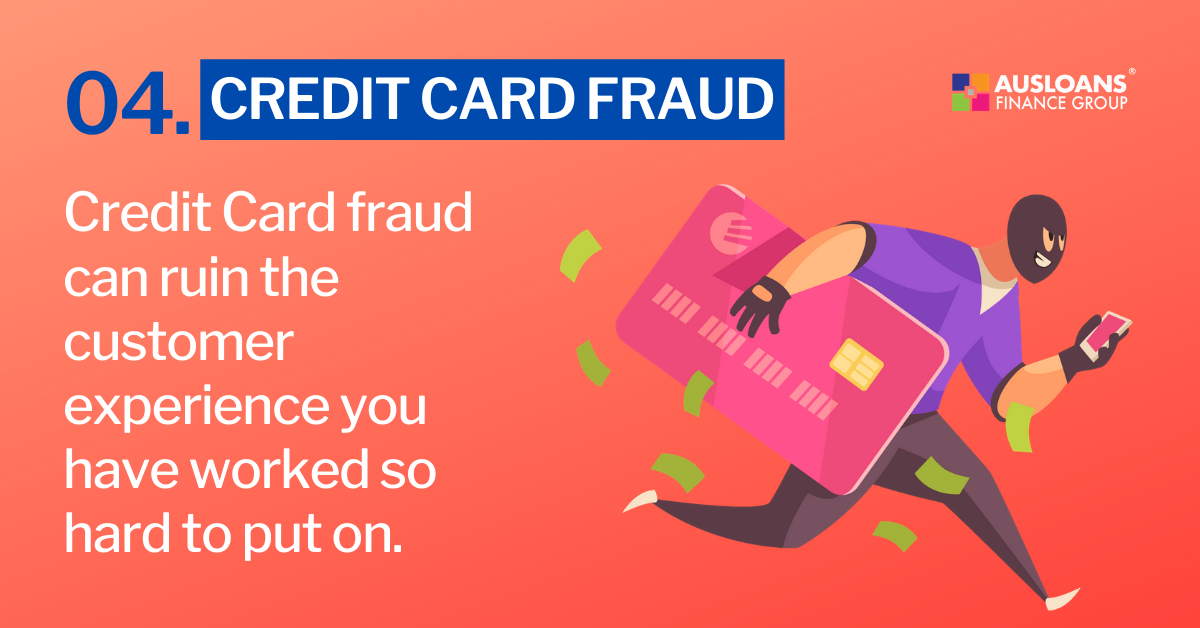 4. Credit card fraud
There are a number of fraud schemes out there that target credit cards, some of them quite sophisticated. Credit card fraud can be a stressful experience for your customer, and that could reflect on your business.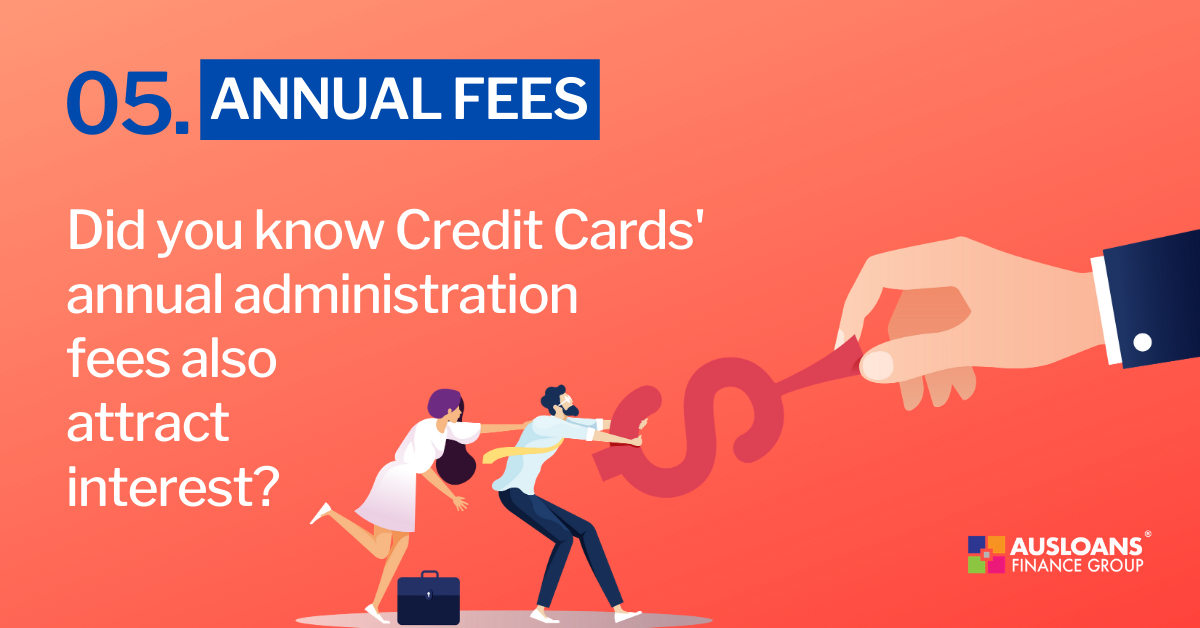 5. Annual fees
Most credit card finance has annual administration fees attached, these fees can be as much as $25 per year, and with some cards, more. There are fees for late payments, which are added to the overall balance. This means the fees attract interest as well.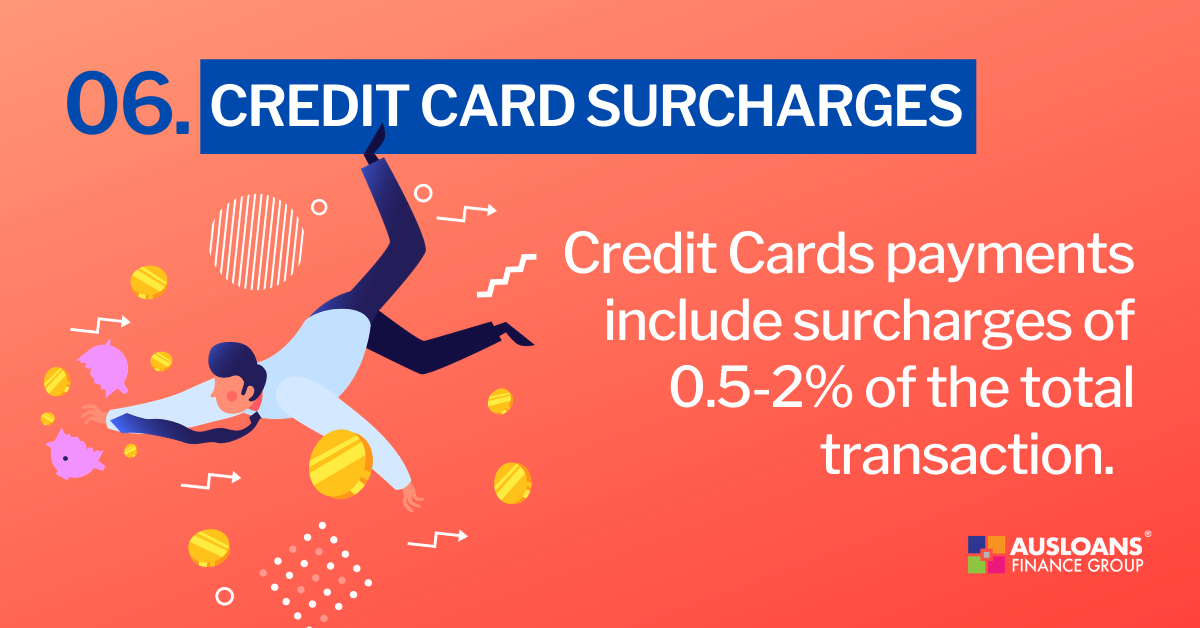 6. Credit Card surcharges
There are sometimes surcharges applied when paying with a credit card. For Mastercard and Visa products, this fee is usually 0.5-2% of the total transaction cost.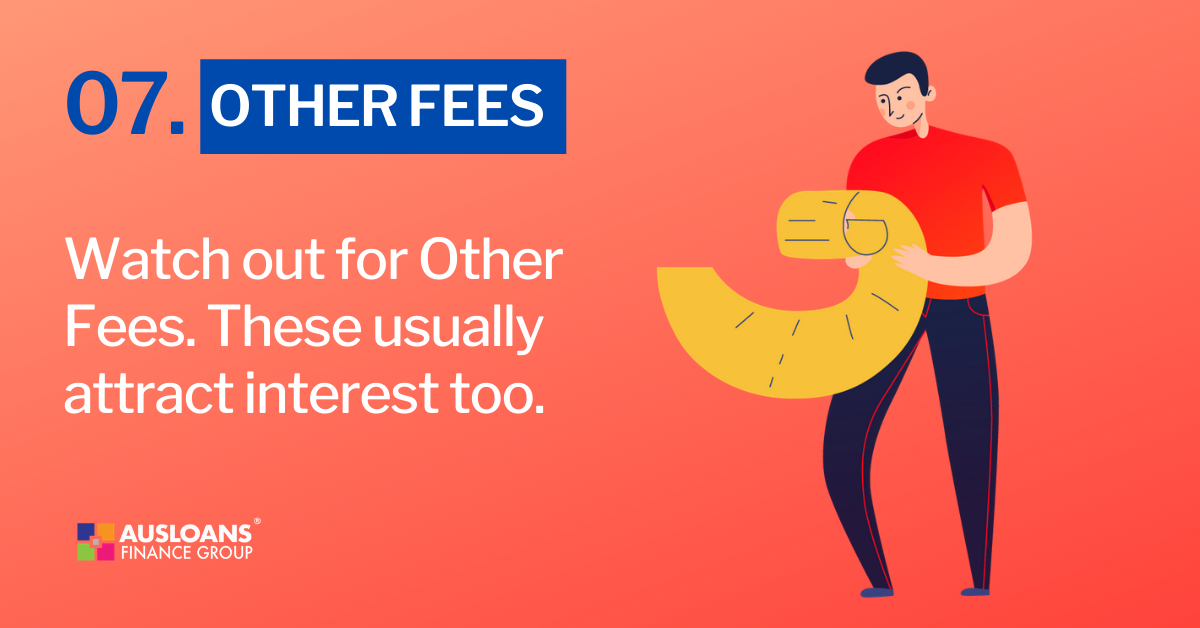 7. Other fees
Depending on the Credit Card finance, balance transfer fees and even some rewards programs, fees can be charged. If the balance is carried over, or the interest-free period is over, there's a good chance interest will be applied to these charges.
The takeaway
If you're looking at the above cons of using credit card based customer financing and thinking "all of these disadvantages fall to the consumer, not my business", then maybe you've missed the point.
In today's social media obsessed world, word of mouth marketing via customer feedback, testimonials and referrals is an integral part of the sales process, and offering the wrong finance solution not only sells your customers into a finance debt trap but does nothing to help you grow your referral business.
Credit card based finance looks attractive but has an ugly underbelly. For example, creditcard.com.au reviews of Skye Mastercard show a user satisfaction rating of 21% or 1 star, with only 14% of users who have rated this card indicating that they would recommend it.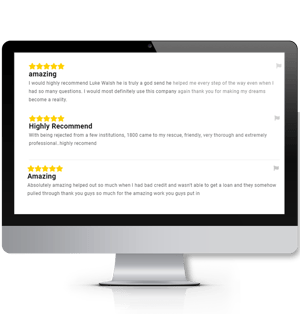 When you compare this to an aggregator finance solution like Ausloans Zink that delivers a 5 star rating with 81% of customers indicating they would recommend family and friends its clear to see which solution delivers the best user experience.
What are the alternatives to credit card based consumer finance
As a business owner, there are a number of things to consider when choosing the right financing option for your customers.
As your primary task is acquiring and retaining customers, you must adjust your business to the needs and wants of your clients and consumer finance can play a crucial role in offering payment alternatives that suit their budget needs.
If you decide to offer finance to your customers, you'll want to be sure you choose the right alternative and the right provider for your business.
Here are two alternatives to credit card based consumer finance that may provide a better alternative for your customers.
1. Buy now pay later – 0% finance
There is no doubt Buy Now Pay Later options like AfterPay and ZipPay are on the rise; however, there are a few things to consider about this alternative.
Interest-free finance platforms will allow your customers to spread the cost of purchasing over some time. Still, they offer finance just for small to medium ticket purchases (the limit varies between $500 to $2,000), so if your business offers product or services over this sum, the Buy Now Pay Later option might not be the right fit for you.
Additionally, interest-free credit providers usually ask customers for a sign-up fee or a subscription fee, which can discourage your clients from joining.
Another thing to consider is that if customers default, rates can get as high as 29% p.a. and this does nothing to help you drive repeat customers and referral business.
2. Single Lender Financing
Another alternative is to partner with a single Lender.

While this option can be an excellent alternative for low-risk borrowers, those customers with a low credit score, high debt-to-income ratio, or self-employed with irregular income, may find it difficult to get approval.

When your potential customers get their loan application declined, they are likely to find another solution to make their dreams come true, leaving you with fewer deals closed and possibly moving on to your competitors.
3. Aggregator Finance Solution
An Aggregator finance solution provides your customers with instant access to multiple lenders.
A broad lender panel represents a good solution for big ticket item sellers and helps you sell more. Each lender operates on different lending criteria which increases the probability of finding a financed solution for your customers.
Ausloans Zink aggregator finance solution
Now that we've outlined the dangers of credit card finance and the advantages of using an aggregator finance solution for your business and customers let's take a look at the financing solutions Ausloans has available.

Depending upon the nature and size of your business there are a number of means to use financing solutions, nevertheless for many SMEs, the most convenient and also fastest means to begin supplying sales financing is by partnering with a third event customer funding service like Ausloans.

At Ausloans, we offer a series of consumer financing program solutions, each customised to fulfil the demands of services of various sizes.
Solution 1A: Ausloans Referral Partner Program for SME's
Our referral companion program is designed for smaller businesses, that do not have an internal financing broker, aiming to use customer funding on goods and/or services over $8000.
Suitable for shop dealerships, high ticket merchants, contractors and alike, our Referral Companion Program partners your organisation with one of our specialist brokers, providing your clients access to over 40 lenders with a few of the most affordable prices in the country.
Service 1B: Ausloans Referral Partner Program for dealerships.

Suitable for dealerships seeking to increase their loan provider pool beyond the range of their in-house capacities, this option gives your dealership immediate access to more than 40 lending institutions, delivering fast finance pre-approval.


Changing to Ausloans was exceptionally easy. We have been getting excellent consumer responses and keeping more deals. There is great interaction and openness and also I would certainly have no reluctance in advising Morgan to close friends, family and also other businesses.

Tom Bennington.
Used Cars And Truck Floor Supervisor - Toyota.
Solution 2: Ausloans Zink POS finance solution for dealerships
If you are a car dealership limited by your current lending panel, and you are disappointed about losing clients due to limited offerings, you need to know about our Zink Program. Zink gives your service access to over 40 loan providers, giving you in minutes loan alternatives that suit all your customers.

Our panel has been proven time and time again to secure 4/10 deal minimum of the deals you throw in the bin - work that our a year - can grow quickly. -

Rodney Michail CEO Ausloans.
How to boost your business growth with Ausloans Referral Partner Program
If you're a local business that offers big-ticket products, then the Ausloans Referral Partner Program may be the perfect solution for you.

Partnering with us is totally free and supplies several benefits to help you and your clients.


Benefits for small business
For local businesses, the most significant benefit of becoming part of our Referral Partner Program is that your company obtains all of the advantages a trusted customer finance solution without the inconvenience and/or the cost of credit report licensing.

You can feel the confidence of having a very experienced finance group working to offer you and your clients an impressive client experience.
Just guide your consumers to obtain a pre-approved loan through your Ausloans loan application web page and our professional finances call staff will work for you to deliver a quick approval answer.
Know more of our Customer Finance Referral Partner Program


Benefits for your customers
For your customers, your Ausloans partnership provides instant access to fast fund pre-approval from a pool of over 40 loan providers, straight from your business or website.
The wrap
Nevertheless, it's not just the capability to provide client financing with us that help you accelerate your service development. When you partner with us, we are devoted to helping you expand and also offer our services with unrivalled complimentary service assistance, including:
A bespoke financing application web page for your consumers.

Professionally created free advertising and marketing resources.

Advertising and financed sales training to assist you in growing.

Addition to our Partner Directory site.

An Ausloans partner badge for your site.

Service spotlights as well as attributes in our consumer-facing 1800approved blog.

Limelight promotion in our business and also consumer newsletters

and much more.
Has it got you interested? Are you ready to begin offering consumer finance as well as boosting sales? Click on the banner below to register and get going now.