Fast & Easy Finance In Southwest NSW With Ausloans Bathurst
by Piera Rossi, on May 31, 2021 3:40:40 PM
Ashley Boyling was in the retail automotive industry for 12 years before moving into finance. His passion and knowledge for both industries led him to join Ausloans as an asset finance broker in 2018. Six months ago, he decided to take the jump and open Ausloans Finance Bathurst in South West NSW, in an attempt to offer the Bathurst community an easier, faster, and more diverse approach to asset loans.
Tell us your story. How did you become a broker?
I had heard of Ausloans for a number of years and in 2018 decided to enquire about the move to transition my career from retail-based car sales into the finance industry. Upon beginning, I had no official finance experience; however, I had spent 12 years in the motor trade, so I brought a different set of skills than what would be normally expected within the finance industry.
What role has your knowledge and experience in auto sales played in your broker career?
I spent a long time in the front line of retail sales, which gave me a good understanding of what the consumer wants and needs and how that process works. This has enabled me to provide a more direct service to my finance clients. There are many options out there in today's market, and many people aren't aware of what kind of value they can get for their money, so having that extra skill set has proven for us (Ausloans Finance Bathurst) to be very successful.
Why did you decide to take the jump and open an Ausloans franchise in Bathurst, NSW?
The reason for me to take the jump and become an Ausloans franchisee was that we have this amazing way of doing business with this fantastic product (Zink software) to be able to offer finance, and I felt it was the right thing to do, to bring that forward into the (Bathurst) community.
One of the reasons for deciding to take on the franchise in Bathurst was that I noticed the only ability that people had was to go into the banks, and a lot of the times, everyday banking just doesn't fit people's needs anymore. People didn't know who they could come to have a conversation with to get four, five or six different finance options, so that way they could make their decisions based on what best suited them. For us, it is all about the customers and how to retain them."
Talking about customer retention, can you explain how it is done?
A key component of client retention is Zink software, which is exclusive to Ausloans Finance Group and focuses on speed and ease of use for us, as brokers and clients. This efficiency gain allows us to spend more time getting to actually know not only our clients but also our referral partners (businesses and dealerships in the area). We get to really know their needs and pain points, and from this knowledge, we are able to service them better. We provide a holistic approach to finance that allows dealerships and businesses to increase sales and ticket value.
So what makes Ausloans Finance Bathurst different from other brokerages in the area?
It is always our objective to provide the client with the best options, and we have the freedom of choice to do that. We are the type of brokerage that genuinely listens to the client's needs, gives them all the options, and guides them through the whole process, and we do this in a timely fashion, quickly, easily, and effectively.
Our team's work is guided by genuine care and vision to see we can make a difference in people's lives and help those around us."
What are the most valuable support/tools you get from Ausloans head office?
In the six months since we opened, there have been many pillars of support from Ausloans head office; Marketing has been a major advantage in the process on how to reach out to different clients. Also, support in HR, implementing the correct policies and procedures to support and protect our staff and also myself. And just the family and community spirit we have within the company.
What areas does Ausloans Bathurst service?
Ausloans Bathurst services the Central West area of NSW; everything within Barrouke, Narromine, Dubbo, Blue Mountains, and the Orange and Bathurst areas; Parkes, Cowra, and surrounding areas.
Ausloans Bathurst Corporate Social Responsibility Initiatives in Bathurst NSW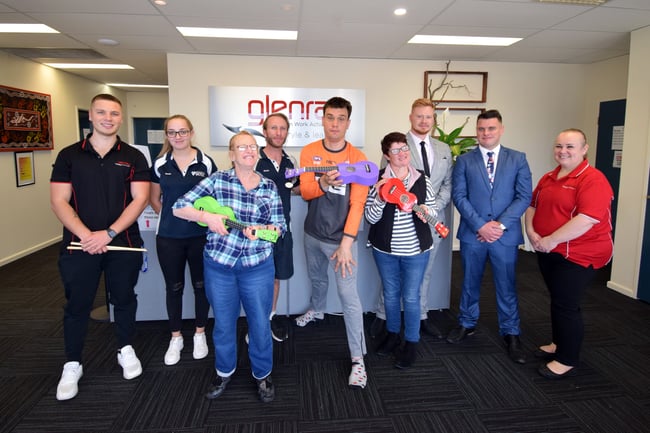 Ausloans Bathurst is committed to contributing to the Bathurst community.
In the picture above they are supporting the Glenray organisation with a music equipment donation. Glenray is a Bathurst non-profit organisation with the mission of empowering people living with a disability to develop to their full individual potential.