2021 Automotive Social Media Guide For Car Dealerships
by Piera Rossi, on Mar 8, 2021 11:41:51 AM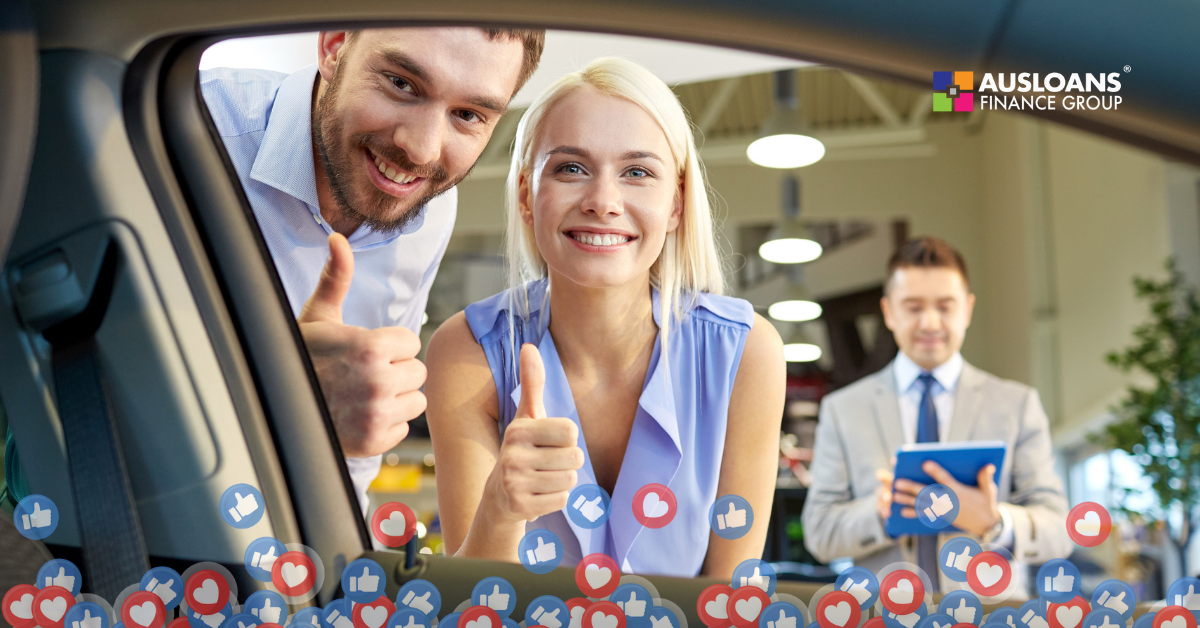 Every car dealer knows and understands that automotive social media marketing drives sales. There is a mountain of evidence to support the idea of investing in social media marketing. A recent Facebook report into Australian consumer car-buying behaviour found that 83% of Australian car buyers find social media useful when purchasing a car.
Your customers are on social, and so your car dealership needs to be on social too. Sounds great in theory; however, the biggest challenges for automotive dealerships considering social media as a marketing strategy are limited time and limited resources to invest.
From Facebook and Instagram to Youtube, LinkedIn, Twitter and Pinterest, each social channel has demographic and marketing features that can be helpful for an automobile dealership.
However, servicing one social platform, not to mention all, is no small task. Let's be real here; social media channels require a constant stream of content to keep followers engaged.
Maintaining your dealership's presence across multiple social networks involves time, effort and resources, that most car dealerships simply don't have.
So how do you overcome that problem?
I'm going to share with you our recommended strategy for small to mid sized independent dealerships. It's a strategy that is easy to implement, doesn't chew half your day and delivers leads and sales results.
However first, we've put together a quick overview of the major social media channels auto dealers should consider.
What is the best social media network for car dealerships?
The best social media network really depends on your dealership's size and the resources you have available to manage and maintain your social media presence. For most dealership marketers, the best solution is to limit which channel or channels are best for your needs, then zero-in your efforts there.
Successful social media marketing is driven by two key understandings. Understanding of the channel and its key functionality and understanding of the demographic you are trying to reach with your messaging.
To help you, we're going to break down each social media network, explain their varying attributes, and hopefully provide you with some insights to help you decide which channel or channels are right for your dealership.

Finally, we will provide you with our social media channel mix recommendations for independent and used car dealerships.
Top Australian Social Media Channels (2021)
1. Facebook – 16,500,000 Monthly Active Australian Users (steady)
2. YouTube – 16,000,000 Unique Australian Visitors per month (UAVs)
3. Instagram – 9,000,000 Monthly Active Australian Users (FB/ Instagram data)
4. WhatsApp – 8,000,000 Active Australian Users
5. LinkedIn – 6,500,000 Monthly Active Australian Users approx
6. Snapchat – 6,400,000 Monthly Active Australian Users (Snapchat data)
8. Twitter – 5,800,000 Monthly Active Australian Users approx
15. TikTok – 1,100,000
17. Flickr – 450,000
18. Pinterest – 290,000


1. Facebook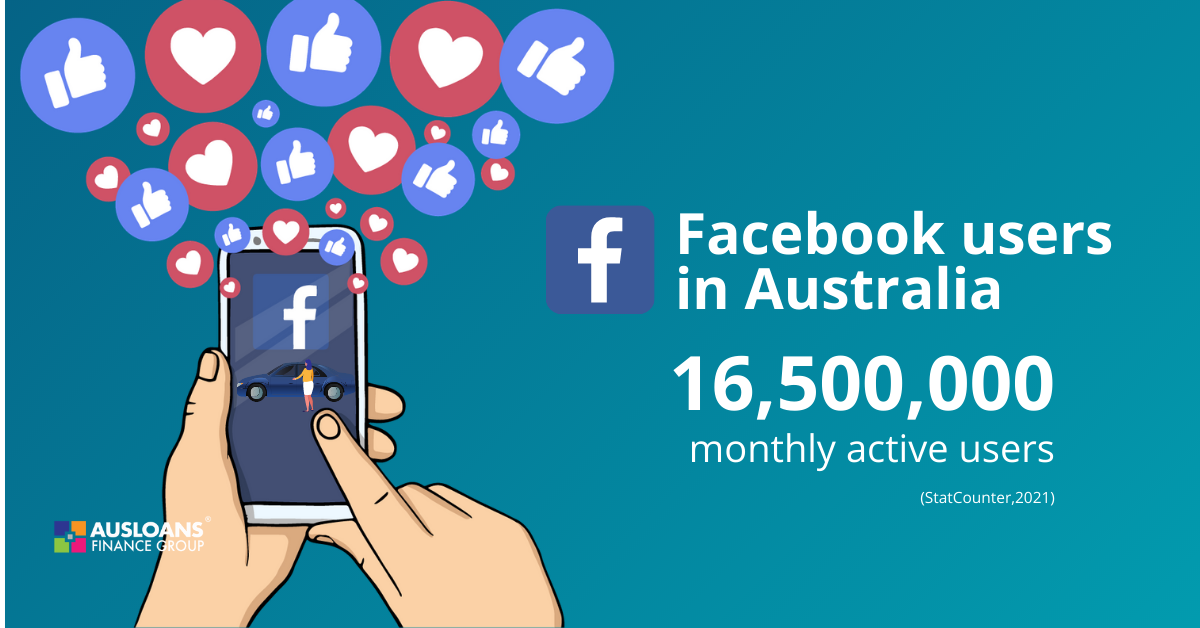 According to Factworks (2017), nearly 2 in 3 Facebook users across all countries surveyed say they visit the page of a business at least once a week. Therefore, setting up a business Facebook page is not only about generating brand awareness; it is also about building trust and legitimacy around your business. When a prospect can easily find your Dealership verified page on Facebook –with your contact information, photos and reviews from other clients– it creates the confidence needed to trigger that first customer contact.
Additionally, the Facebook chat feature –Facebook Messenger– is an easy way for a customer to get in touch with your Dealership in a more casual way and without the sense of commitment that filling up a form may have.
Successful car dealerships accounts on Facebook reach a massive level of likes and views because they have learned to produce content that fits the audience's needs.
How your Dealership can leverage Facebook
Use Facebook as a contact point for prospective customers.
If you don't have the time or resources to respond instantly to your Facebook messages, you can set up a Facebook messenger bot like Many Chat or Chat Fuel. These work as an automated chat and can help you obtain more information about your client's needs before spending valuable time on a conversation.
Facebook Marketplace is used by 800 million people monthly , so posting your cars for sale on your Facebook page is one of the first things you should do. Try to upload quality pictures and or videos, and a detailed description that includes at least: year, model, kms and special features.
Use video. According to Google Insights, 70% of consumers said online videos convinced them to think positively about a brand, while 65% declared online videos introduced them to a new vehicle they had not considered before. Use videos to give customers a more engaging view of cars, including its interior.
Mix engaging organic content with paid ads to expand your reach.
2. Instagram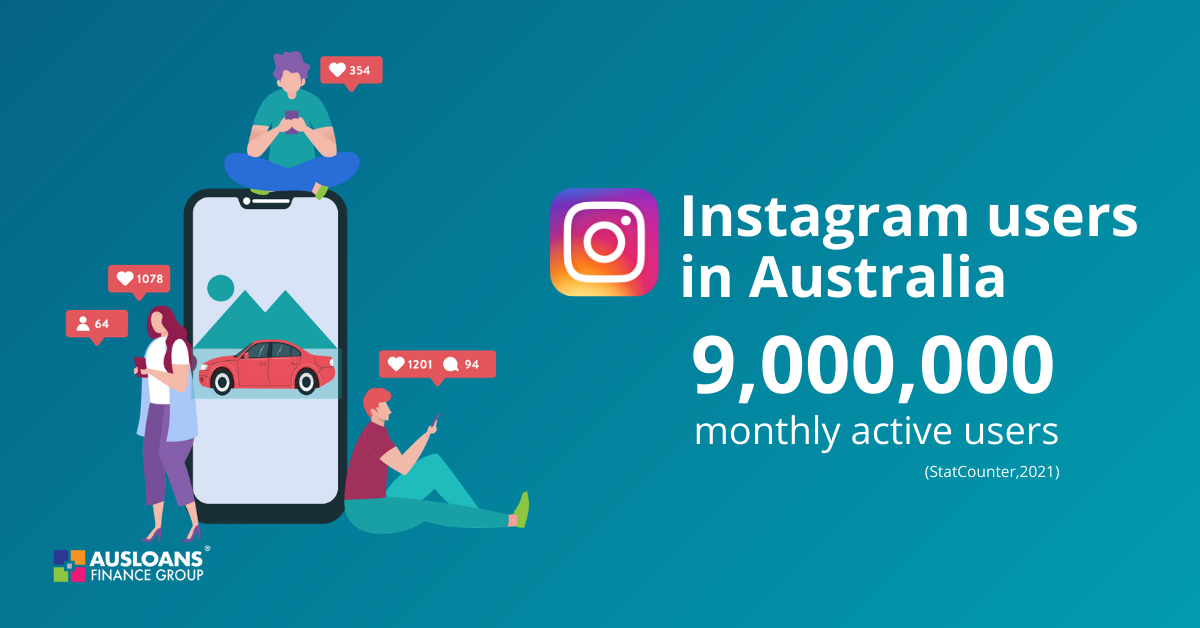 Demographic:
The majority of Australian Instagram users are

female - 57.1%.
3,100,000

Australian users are aged between 25-34.
Nearly

two-thirds of Instagram users

are aged between 18 - 29
Instagram is the fastest growing social media channel in Australia, with 10,6 million users in 2020. Its features represent plenty of opportunity for your auto dealership as it allows you to post photo, videos, Stories (24 hours content) and longer-form videos (IGTV).
Whereas Facebook is a channel that gathers diverse type of content, including articles and blogs, Instagram is purely visual. Its visual nature allows Australian car lovers and dealers to share their passion for cars in a more emotional way while connecting in one place.
On Instagram, successful car dealership accounts have mastered the practice of seeding the feed with fresh organic and powerful visual content from social influencers.
Instagram, primarily used on mobile devices, is all about taking, sharing, and uploading pictures and videos and has a myriad of great marketing tools.
Furthermore, a survey by Facebook discovered that millennials are deserting Facebook and are turning more of their attention to Instagram. Instagram provides a superb platform to creatively share your brand's story. For example, share pictures that allow consumers to imagine themselves living the dream. A picture of one of your vehicles at the beach, boot partying at a sporting event, camping or any creative way you can imagine to showcase the lifestyle your vehicle represents.
How your Dealership can leverage Instagram
Use all of Instagram's features (posts, stories, reels, IGTV). With time, you will come to understand your audience better and know what type of content generates more engagement.
Create content that invites your audience to participate by asking their opinion, asking a question, inviting them to answer a poll, participate in a contest, etc. If they comment on a picture or video, reply. The idea here is to generate community!

Use Instagram Live and your clients and prospects alike know when you are online and can interact with you live. you could live-stream the launch of one of your car dealerships feature sales. This can lead to some fantastic fun from answering questions directly from followers, to providing the information that they want to know, or even the use of festivals and celebrations.

Create a mix of engaging organic content with paid ads.
If you offer customer financing, let know your audience you offer this option and advertise your financed deals on your Instagram captions by detailing weekly or fortnightly payments.
Note: Instagram offers seamless integration with Facebook. Content created and shared on Instagram can be use and leveraged on your Facebook business account.
Download the Instagram Marketing for Auto Dealership: The Ultimate Guide (2021)
3. YouTube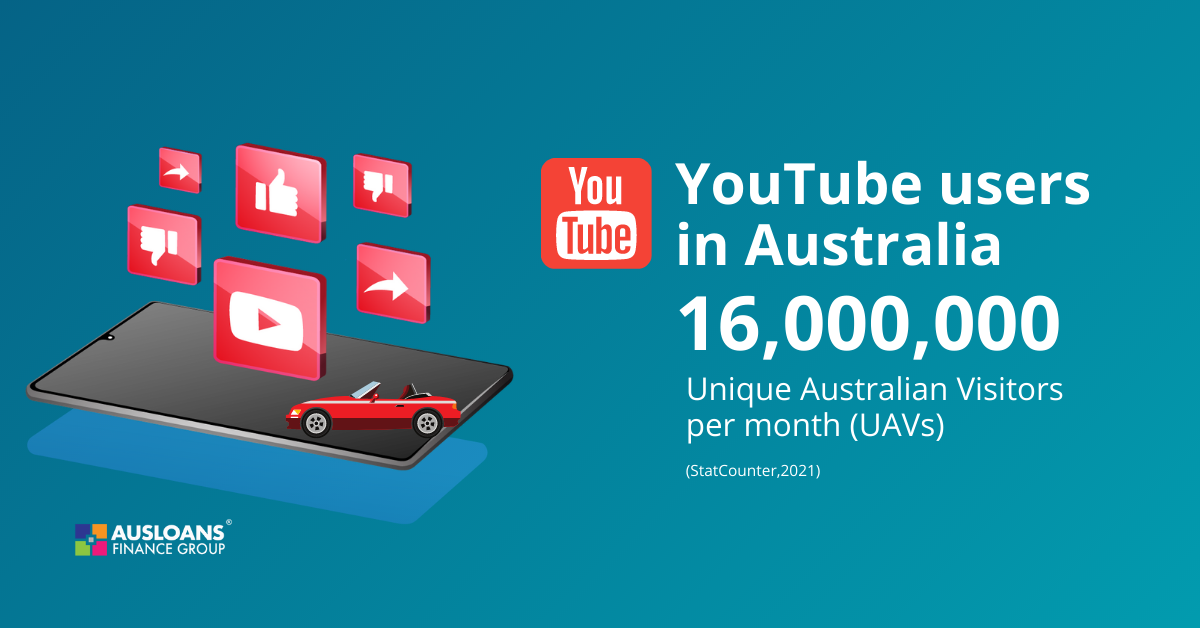 YouTube is the world's biggest video sharing site, and according to Google, it reached 80% of the Aussie population in April 2020.
According to Google (2018), 40% of auto shoppers who used online video for research said that it helped them discover a vehicle they weren't previously aware of considering, while 60% reported visiting a dealership or dealer website after watching a video of a car they were considering. Car consumers are searching for information on model comparisons, safety features, connected devices, hows and tells, and other content to assist them with making a decision.
So if you are already convinced video content is the go and you are looking for an easy way to embed video on your website while looking for a larger organic result, you should definitely start by creating your Dealership YouTube channel.
How your Dealership can leverage YouTube
Create video content where shoppers can research and experience cars in more immersive and meaningful ways like test drives, car reviews, etc. Additionally, try to create a sensory experience of the vehicle, including sight, motion and sound.

Set up your Youtube channel profile professionally. Add your brand logo, a nice cover photo, and a description of you Dealerships –what makes your Dealership unique and different from competitors.

Use keywords to describe your video on YouTube. This will help YouTube algorithms understand better what your video is about and therefore push it higher on the ranks. Do not use all the keywords you can think of –sometimes less is more– this will only confuse YouTube, worsening your video's ranking.

Embed your YouTube videos on your website to generate more views and improve your ranking on search results. You can also include your YouTube videos in your email campaigns by only adding a link.




4. Twitter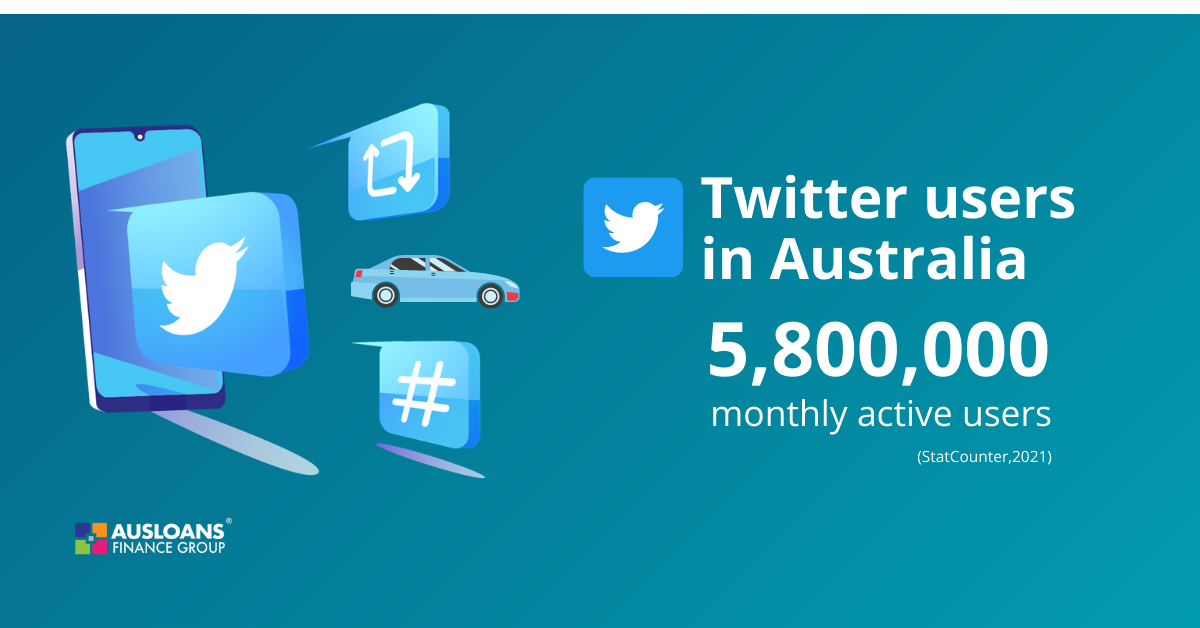 If you are looking for a cost-effective methods of engaging with your consumer base, Twitter is a great option. One of the advantages of Twitter is that you don't necessarily need visual material to create content. With only 280 characters and a link, you can generate attraction or clicks to your website.
According to Hootsuite (2021) the largest demographic group in Twitter is between 25 to 34 years old, and this demographic likes video content. Video content views increased 62% between 2019 and 2020.
According to Twitter (2019) research conversation on the car-buying journey is also taking place on Twitter.
83% of Twitter users who where looking for a new car declared Twitter influenced their decision-making process.
How Auto Dealerships can leverage YouTube
Set up your Twitter business profile with your logo, cover, description and a link to your website, and drive more traffic to it.
Post as many times a day you want. There is not such thing like "posting too much on Twitter", in fact, it is expected. So don't be afraid of looking spamy and post auto content every day.
Use relevant hashtags to get more traction. People in Twitter that are searching for a specific topic iare likely to check content around hashtags. S

uccessful car dealerships

have

optimised the use of trending hashtags to further expand the

ir

reach beyond the

ir

followers base.

Post pictures or your cars. Twitter allows photos, videos, links and text.
Retweet positive tweets about your brand giving them more exposure. Mention users using @ and reply to comments and mentions. These will help you increase engagement.

Direct messages and advertising can be sent to those consumers who have displayed

some type of

purchase intent

.




5. Pinterest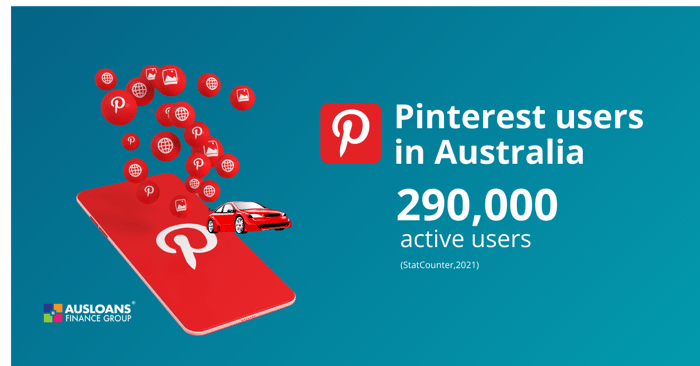 Even though Pinterest has considerably less users than other social media platforms, do not leave out Pinterest from your social media marketing strategy.
This platform allows users to "pin"content like images, videos and infographics, and put it in a virtual board. This makes it an excellent option for building your SEO presence by sharing landing pages, pictures of your inventory, or pinning blog posts infographics. It also creates opportunities to provide engaging product education
Pinterest is a perfect platform for the automotive industry in several key ways. First, it has a large female audience, which allows your car dealership to appeal to female customers.
How your Dealership can leverage Pinterest
Post content that inspire users to pin it in one of their boards.
Generate content that provides engaging product education. Pinterest in fact helps to reduce the number of steps from discovery to conversion so you can leverage Pinterest value by creating instructional, informational or inspirational content.
Integrate Pinterest with your Facebook and Twitter account so the content you publish in Pinterest gets shared in other platforms.
6. LinkedIn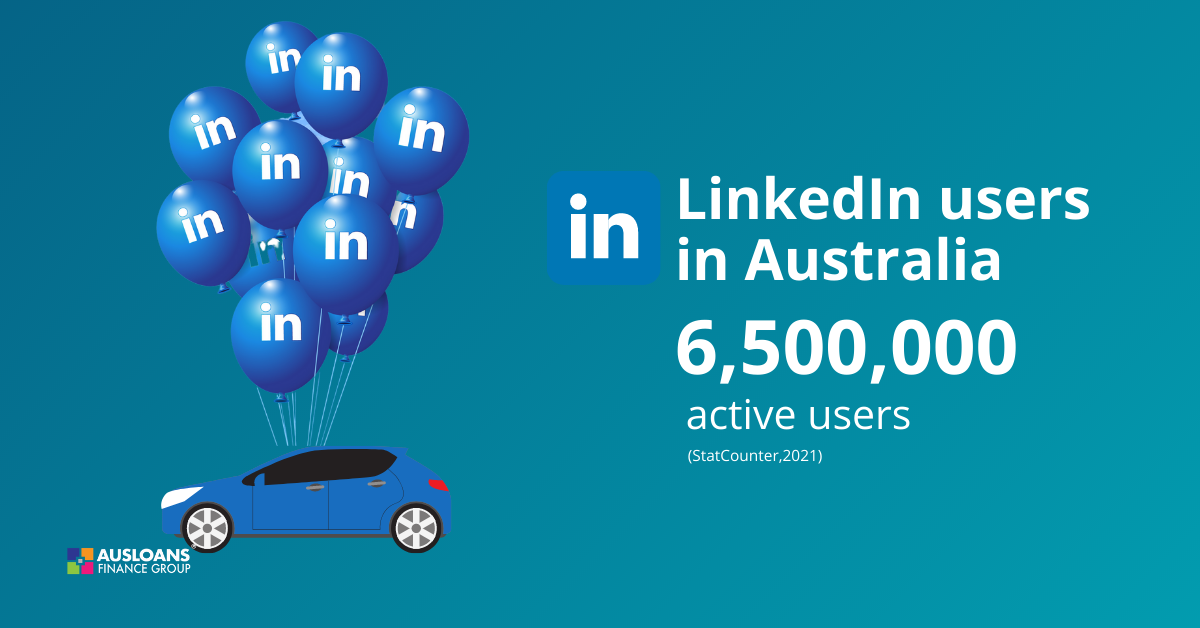 More than 30 million companies in the world use LinkedIn, and according to LinkedIn research, this platform users are more than twice as likely to be in the market for a vehicle than the general population, which makes LinkedIn an attractive place to be for your auto dealership brand. Additionally, according to Business Insider, LinkedIn is the most trusted social media platform by users, which can add this element to your brand.
How Auto Dealerships can leverage LinkedIn
Provide content that matters to your audience. One option is staying at the top of the automotive news or curating auto content your audience would engage with. With time you will know what type of content produces the highest engagement.

Expand your LinkedIn network by connecting with more users and share your content with a larger audience.
Try LinkedIn polls. This is one of the most engaging ways to generate marketing feedback. Create polls about auto and know get to know your audience better.
As you can see from the overviews of the main social media channels, each offers dealerships opportunity. The challenge is knowing which channel or channels to focus you social strategy on. To help here is our recommended social media channel strategy for small to mid sized dealerships.
Social media strategy for small to mid size dealerships
When it comes to social media marketing there are two major challenges for small to mid-sized dealerships, time and promotional resources.
In this section we are going to show you how to overcome both challenges with our 10 minute a day automotive social media strategy. So lets dive in.
Which social media channels should dealerships use?
First lets talk channels. While all the above channels have the potential to generate leads there re two obvious standouts for Australian automotive dealers. Instagram and Facebook.
Both are owned by Facebook and when used together these two channels are going to give you access to the biggest potential audience. But how to do this.?
According to research by BuzzSumo posts that are reposted from Instagram to Facebook got 23% more engagement than posts natively on Facebook.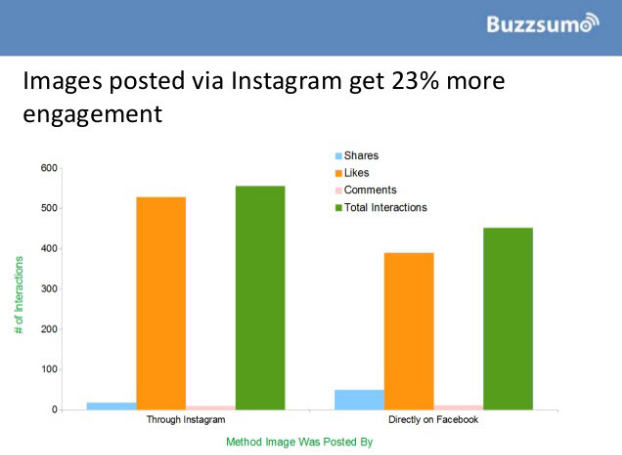 Instagram is the fastest growing social media channel in Australia and the way content is displayed, searched and discovered on the platform makes it the ideal focus for automotive dealers.
Taking into consideration these two facts the ideal social media marketing strategy for small dealerships is to post to Instagram and then share to Facebook to increase the engagement.
This is the exact strategy we use with Drive Wholesale to generate car buyer leads and sales every day.
Dealership Social media posting strategy
So now you know the perfect channels the question is what to post and when to post.
In short the best type of posts to publish to Instagram are reels, carousels and 360 degree video posts. These type of posts work and the best thing is, with just your mobile phone camera you can make and publish these to Instagram in as little as 5 minutes.
Our recommendation is to firstly focus on creating one Instagram post a day which focuses on promoting a vehicle you have available and then sharing that post to your Facebook page. It's that simple.
Outside of this make sure you get a photo or video of your happy customers when they come to pick up their new vehicle. Customer testimonials will help build trust in your dealership.
Here's n example from Drives Facebook page.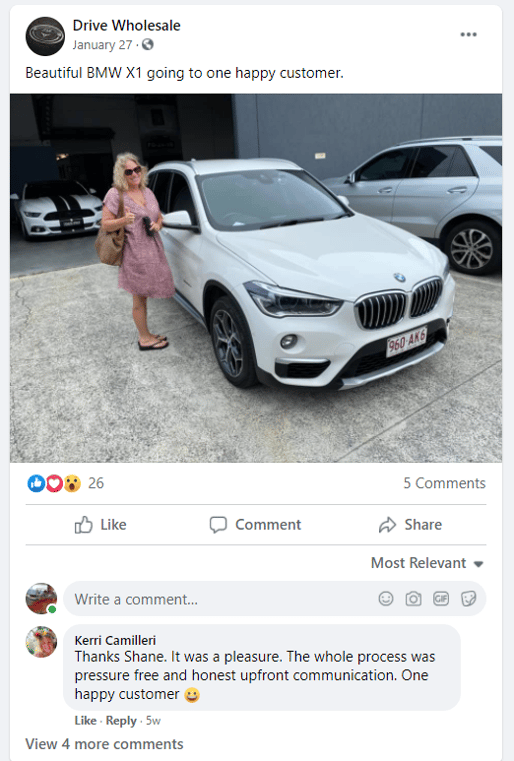 To help you we've put together a guide to Instagram marketing for automotive dealerships. In this guide we walk you through each of the post types and show you how to create them in under 5 minutes.
On average, virtual video tours of a vehicle on Drive Wholesales Instagram page get 6 to 10 times more engagement on Instagram that a static post.
In the snapshot below you can see that the video post received over 2000 plays while the static image posts combined only engaged 169 Instagrammers.

Similarly, when we share our Instagram video posts to Facebook they generate leads and inquiries. Here's an example of a post we recently shared from Instagram to Facebook that generated lead enquiries without paid advertising.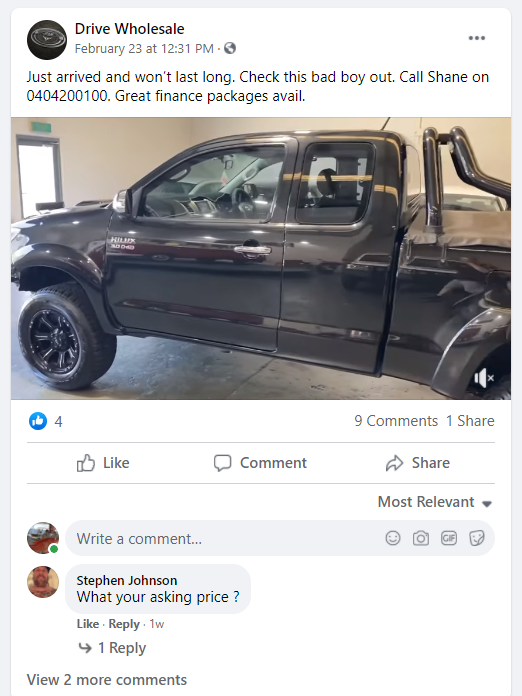 Here's another post that recently generated a sales lead direct from social without paid advertising.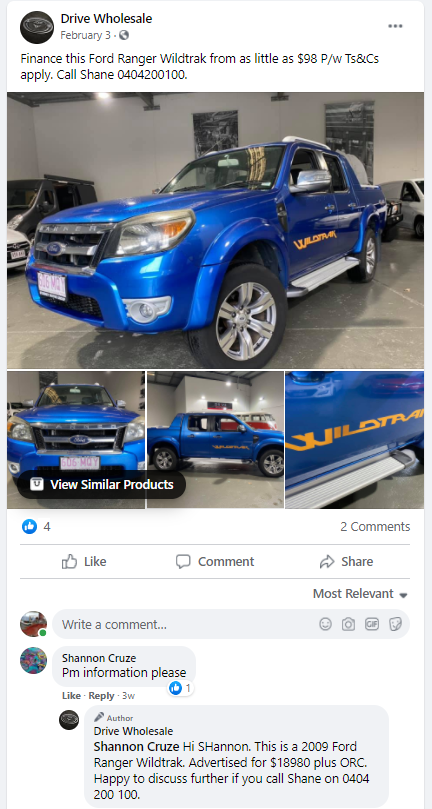 The Take Away
The bottom line here is that Australian car buyers are using social media to discover vehicles and engage in conversations around car finance.
Furthermore, consumers are going beyond the traditional third-party review sites, they are also checking reviews on social media platforms, so encourage your car dealerships satisfied customers to share their excellent experiences.
Automotive social selling is real and with the right tactics its not difficult for dealerships to generate both leads and sales using our 10 minute a day social media marketing strategy.
So why not give it a try, it only takes 10 minutes a day and we'd love to hear your feedback, so feel free to share your experiences with social media marketing in the comments section below.
Also don't forget to share this article on your favourite social media platform.
Yours in sales!
Related Posts
Instagram marketing for automotive dealers