Experts' Secret To Closing More Loan Deals
by Piera Rossi, on Mar 16, 2021 1:59:57 PM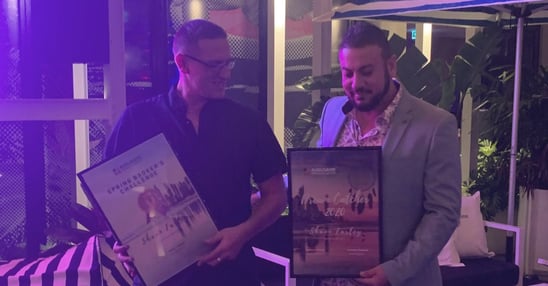 How to settle 25+ asset finance loans a month
Shaun Farley is a finance broker killing it in the asset space. Throughout 2020 he managed to double his number of monthly settlements, and during our quarterly broker challenge was able to average between 25-28 settlements a month.
In this interview he shares exactly how he was able to consistently hit 25+ settlements a month over the 3 month broker challenge.
Interview with Shaun Farley Ausloans Broker Challenge Winner
At Ausloans we like to create a little friendly competitive rivalry amongst our brokers and teams with our Annual broker challenge.
The goal of the challenge is obviously to win company bragging rights by being the best performing broker with regards to settlements and income generated over the quarter.
To fuel the competitive spirit of our brokers we offer some nice prize incentives and throughout the competition run a leaderboard to further fuel the competitive spirt.
The competition was fierce this year with rights to the title of best broker coming down to the last day, where Shaun Farley was able to bet out the competition to take the 2020 broker challenge title.
Here's a transcript of Shaun's video interview.
How did you become an Asset Finance Broker?
I was doing home loans for a while, doing ridiculous hours, working until 11 p.m. I needed a little bit of a change, and I heard about Ausloans. I saw an opportunity, so I took it.
What do you most like about being a broker?
Helping people that are stuck. We do a lot of loans for people that have bad credit and can't get finance anywhere else, and being able to get them a car or anything they need to improve their life is very rewarding. A lot of people are very grateful that we can help them.
What do you think clients are looking for in a broker?
Someone that looks out for their best interest rather than their own. Many companies just act in their own interest, whereas it is our job to do what is best for the client. In my mind doing what is best for the client is finding the best deal at the best rate for their personal circumstances. If you make them happy, they will come back next time they need something.
What was your secret to winning the Ausloans Broker Challenge?
I started using Zink Software right before the Broker Challenge started. When I switched to Zink, I started tripling what I was doing in previous months, and everything just fell into place. It was just so seamless how the applications progressed, so I had an average of between 25 to 28 settlements per month. Busy time, but rewarding as well.
How Zink changed the game for you?
Before Zink came out, I usually spent 30 minutes to 1 hour at a minimum, manually assessing an application, going through the bank statements, the credit files, time in employment, talking to the client, etc. Now you have a snapshot of the client on one screen, so you can assess it in a matter of minutes and know whether you can help them or not. Before, I used to have 20 or 30 different tabs that I had to go through to see everything. Zink delivers it all in one shot, so you know what you can or can't do instantly.
What is the most significant challenge Zink Software has helped you overcome?
At Ausloans, we have 40 different lenders in our panel, and therefore there's a huge matrix of lending criteria and policies. Zink has a built-in tool called Broker Advisor that lets you know what lenders the clients fit. Knowing what criteria the clients meet makes it a lot easier; rather than thinking over more than 40 lenders, what lender can you go to. You simply click on the assessment, and it will let you know what lenders will accept this client. It streamlines the process so much more.
How customers benefit from Zink?
With especially difficult profile clients, it can take a couple of days to find the correct lender that would take them on board, whereas Zink can tell you straight away. It can knock the days off an application, and that means instead of the client having to wait 4 or 5 days for a result, we can have an answer within 24 hours.
The Takeaway
With Ausloans Zink and the suite of broker tools housed within the platform, brokers can streamline their business processes, decrease loan qualification time and settle more deals.
Making the switch to Ausloans has worked well for Shaun Farley and it can work well for you too.
Got you interested? Learn more about Ausloans broker aggregator partnerships to see if we are good fit for your broker business.
Want to see Zink in action? Book a Zink demo today or alternatively take decisive action, click the button below and sign up to become an Ausloans broker.