Finance Broker Tools | Automated Loan Commissions Calculator
by Chris Hopkins, on Jan 25, 2021 11:56:24 AM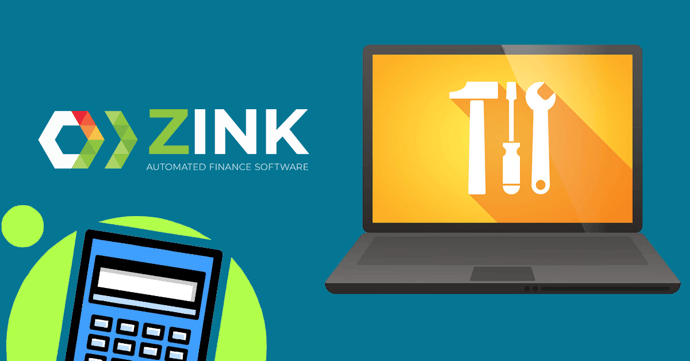 There's a new finance broker tool that's changing the game for brokers, removing the stress of lender choice, opening broker eyes to new lenders and helping brokers maximise commission profits, all while delivering the best lending options to clients.
So what is this new broker tool that calculates broker loan commissions? Ausloans Broker Advisor.
What is Broker Advisor?
Broker Advisor is the newest addition to Ausloans, automated finance software - Zink. Whereas Zink's finance assessment engine does all the heavy lifting with regard to conducting a customer finance assessment, Broker Advisor does all the heavy lifting with regard to lender matching and broker commission calculation.
Forget searching through lender rates, manually assessing lender matrix and policy, and gambling on a lender approval. With Zink's Broker Advisor finding the perfect lender for your client and maximising your ROI has never been easier.
Zink's Broker Advisor tool takes customer financing automation to the next level. It combines 5 powerful tools that work in sync automatically to save brokers time and remove the need for broker decision making.
Specifically Broker Advisor includes an individualised rate calculator, an advanced loan calculator, loan capacity calculator, loan approval probability calculator and a broker commissions calculator. However before we break down the functionality of each of these broker tools, what is Zink?
What is Zink Finance Software For Brokers?
Zink automated finance software for brokers is an aggregator finance platform, designed specifically to make finance easy for all parties including, consumers, dealerships and brokers.
Initially designed as a paperless consumer finance qualification engine, Zink has already captured industry wide attention with two finalist nominations at The Advisor's national broker awards. and here at Ausloans Zink's lightning fast credit assessment engine its already being praised by brokers as a productivity and efficiency game changer. However with the addition of Broker Advisor, Zink offers brokers an arguably, unmatched customer financing solution.
Features of Broker Advisor
As already outlined, Zink's Broker Advisor has 5 key features, each of which is designed to accelerate the loan process, remove the need for broker tacit knowledge and deliver an outstanding customer experience, regardless of outcome.
So lets take a look at each of the tools in the broker advisor suite.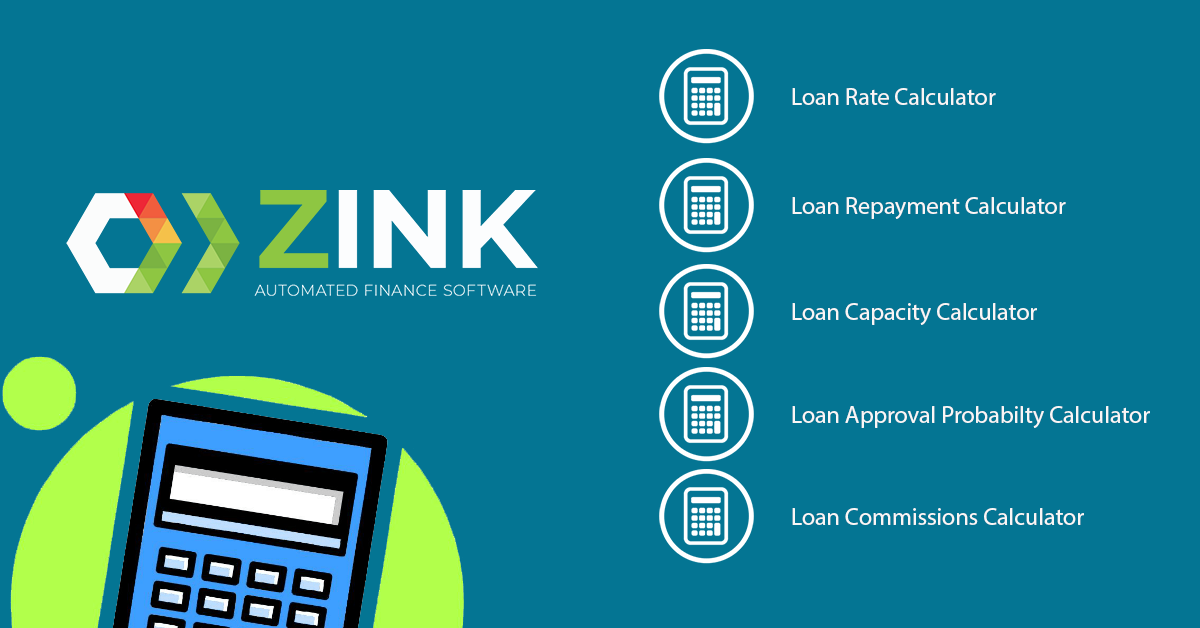 1. Loan rate calculator
As brokers you know that lenders offer customers with different finance profiles different loan interest rates. Zink's loan rate calculator assesses a clients application to then give you an accurate rate indication for all lenders (40+) that the client is eligible for before lodgement. This falls in line with the new BID laws which ASIC has implied on the mortgage and asset broker sector.
So why is this a gamechanger for brokers? Traditionally a broker would need to rely on experience and lender knowledge to supply a client with an estimate of the rate on offer and would only receive the guaranteed rate once the loan application was submitted.
While individual brokers may have a strong understanding of some lenders, generally 3 or 4, realistically a brokers capacity to accurately predict a customers rate prior to submitting the loan application is near impossible. This challenge becomes amplified as the size of the available lender panel increases.
With the Ausloans rate calculator for brokers, brokers can quickly see the interest rate on offer to the client, prior to submitting the application. This allows the broker to provide full transparency and accuracy around the rate quotes from different lenders.
2. Loan repayment calculator
Loan repayment calculators have been the go to broker tool for estimating customer loan repayments for years However without knowing the rate on offer to customers providing a finance estimate to clients is educated guesswork at best.
So how is Zink's Broker Advisor loan repayment calculator different?
Zink's repayment calculator is automated, meaning you never need to enter any data to calculate repayments and/or the total cost of the loan. Broker Advisor uses the information entered by the loan applicant to determine both the rate and indicative repayments from all eligible lenders with whom the applicant qualifies. This allows you, the broker to quote accurate loan repayments before submission to ensure you are meeting your clients budget.
3. Loan capacity calculator
Zink has an inbuilt loan capacity calculator which can advise the broker of a clients maximum borrow amount based on the individual borrowers personal credit assessment.
For brokers the capacity calculator seamlessly delivers lender capacity across all lenders with which the customer qualifies. Understanding and being able to visualise capacity on offer from different lenders empowers brokers and dealership finance managers to help customers with their buyers journey.
4. Loan approval probability Calculator
Imagine if you could predict, with a high degree of accuracy, the outcome of a loan application before submitting to the lender. Broker Advisor's loan approval probability calculator does just that and much more. If an applicant qualifies with a lender, broker advisor not only delivers the rate on offer, the maximum capacity available and the total cost of the loan, it also conveniently lists the lenders in order of probability of success.
This advanced feature is one of the keys to maximising both broker efficiency and customer lending outcomes. Here's what brokers say about the competitive advantages of Zink's loan approval probability calculator.
Zink's probability calculator gives me, as an experienced broker, the confidence and ability to not overthink deals. Zink delivers peace of mind to find quick and easy submissions.
5. Advanced Loan Commissions Calculator
As a broker you've no doubt used a loan commissions calculator before to work out exactly how much commission you could potentially earn brokering a loan. Knowing the ROI on your investment in finding the right finance solution for your client is critical to running a successful brokerage, but are you leaving potential commission on the table?
Often there are significant lender differences in the broker commissions offered on the same loan. Using Zink's broker advisor, car finance brokers have the ability to maximise commissions without compromising on the promise to find the best deal for the clients budget and circumstances. In fact in many cases brokers are able to find solutions which not only maximise their commissions but also offer clients the same or better interest rates.
In the example from the table below, broker income on the same loan ranges from $1336 - $2500, that's a massive difference of $1164.
The bottom line, with Zink brokers can maximise commission income while still delivering positive lending outcomes for customers.
So how does Zink work?
How does Zink's Broker Advisor work?
When a customer applies for finance through a dealerships Zink partner landing page a number of things happen simultaneously.
Firstly, once a customer completes an online, paperless finance application, Zink uses multiple API's to access an applicants finance history and present an assessment of the customers credit worthiness across the 5C's of credit.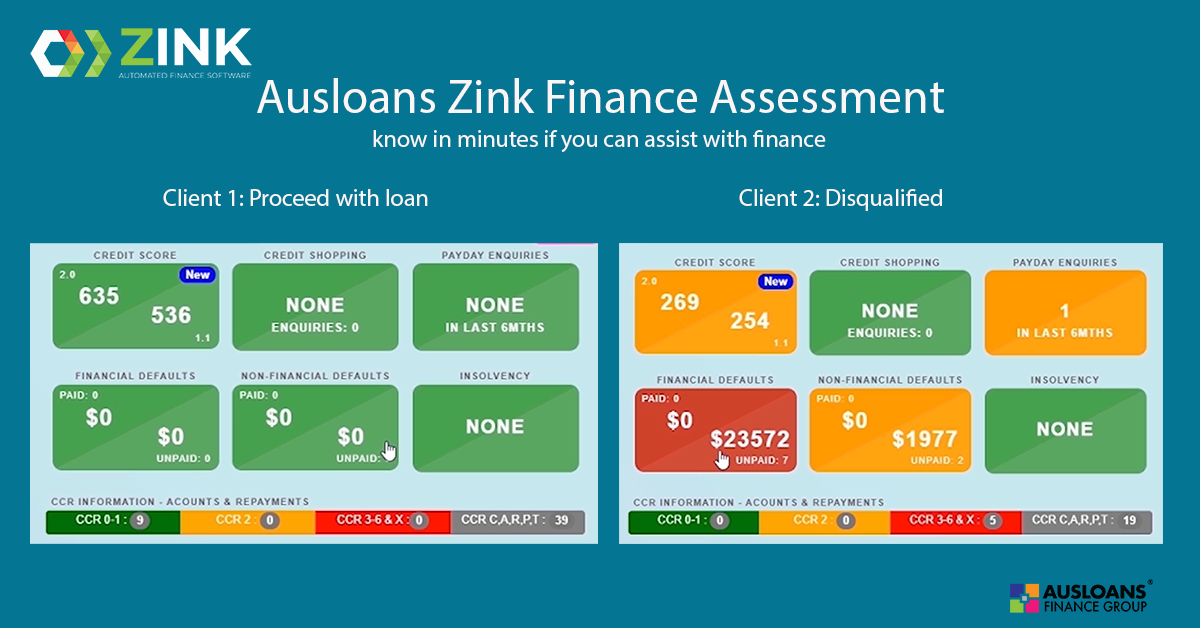 The assessment happens in a matter of seconds and delivers a complete customer profile, showing credit score, loan and default history as well as a traffic light assessment of the overall finance application. Green means the loan can proceed, orange means further information is required and red means that the loan can't proceed at this time.
Next, if the customer qualifies for finance, Zink will automatically assess the finance application against each of Ausloans lender panels qualification criteria and delver offers from each lender prepared to sell the loan.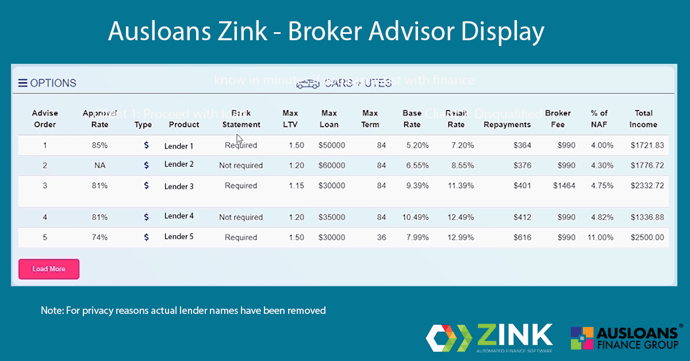 Broker Advisor Testimonial
The Takeaway
With Ausloans Zink brokers can instantaneously understand an assessment position on the client that shows multiple lenders. This visual display gives brokers the instant gratification of being able to quote genuine and situational pricing for the customer based on their personal profile. It's that easy.
What do you think of Ausloans finance broker tools? Join the conversation by adding your thoughts in the comments section below. Finally if you think this posts adds value don't forget to hit the share button .
Want to see more. Click the banner below to book a full demonstration of how Zink works.
Recommended further reading: