Finance Broker Software Adds $20,000 To Monthly Income
by Chris Hopkins, on Mar 11, 2021 1:45:58 PM
Finance brokers are always on the lookout for tools that make their job easier and Zink for brokers by Ausloans, is delivering massive productivity and efficiency gains for brokers and putting more more money in their pockets.
In fact, for Ausloans broker partner Ashley Boyling, Zink is adding an average of $20000 a month to his income. That's $20 000 a month that, without Zink, would have fallen into the withdrawn section of his CRM.
So what does Ausloans finance broker software do that other broker software doesn't do? The answer, it uses advanced lender algorithms and machine learning to deliver advanced lender matching.
However, before we dive into the detail of how our broker software works to give asset finance brokers a competitive advantage, lets take a quick look at a client case study from Ashley's CRM.
Zink finance broker software delivers the right lender in 20 seconds.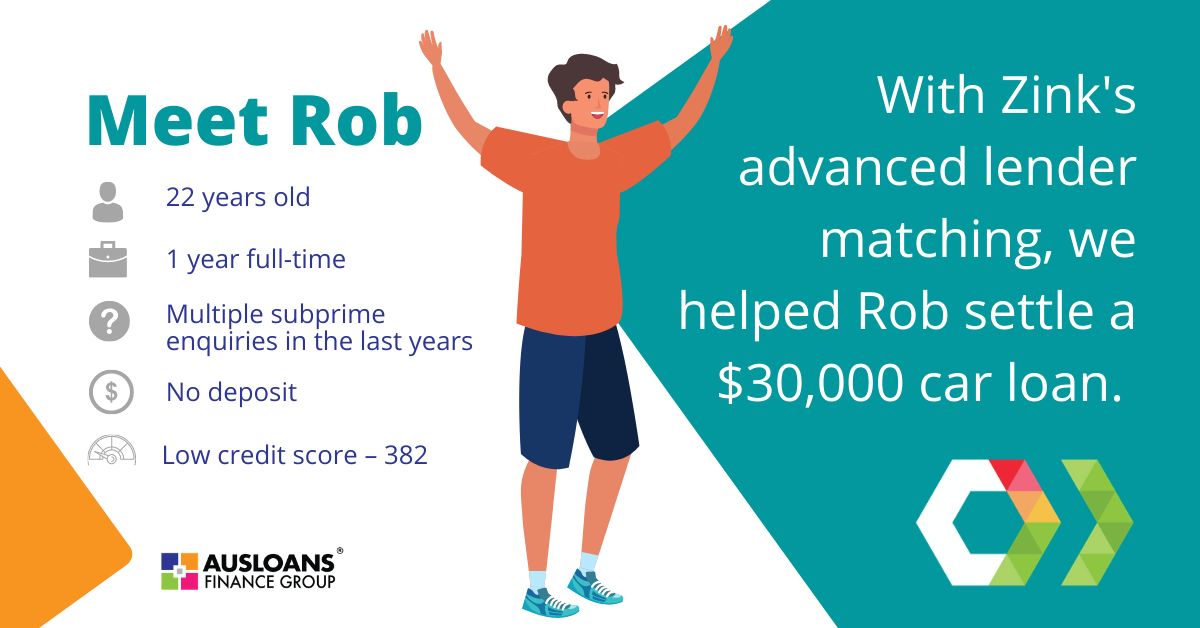 Ashley Boyling is an experienced broker who, until recently, was relying on his lender knowledge to push finance applications to the lender who he believed would be most likely to accept the loan. Then he discovered the power of Zink's broker advisor tool.
Here's his story of discovery and how it has changed the way his team process loan applications.
According to Ashley, when he was first introduced to Zink's broker advisor tool he though, yeah that looks like a good thing, but rather than using the tool, continued to use his personal lender knowledge to decide which lender to push loans to. That was until he was confronted with an all too common broker problem. The lender he believed would be most likely to accept the loan rejected it.
Ashley is regularly confronted with trying to find lenders for clients with poor credit and naturally turned to his knowledge of subprime lenders like Money3 and Finance1.
In this particular case the client was looking to secure a $30 000 loan for a new car. The client profile was as follows; one year full time work, good income, partner, no children, multiple sub prime inquiries over the last 12 months, no deposit and a credit score of 385.
Given the client profile, his broker instinct automatically told him the right lender would be Finance1 so he sent off the paperwork, The deal came back with a $10 000 approval.
The client was looking at a $30 000 car so obviously didn't want to proceed with that loan. At this point Ashley was not going to make any money so he ran the app number through Ausloans broker Advisor and it displayed Pepper.
According to Ashley
Never in a million years did I think Pepper would buy this file. There's no defaults but the score is low, 22 year old kid, again at 382 credit score. Lots of inquiries, lots of subprime inquiries over the last few years, one as recent as 6 weeks prior ... but to my surprise, I got the approval for the full amount.
For Ashley this was a lightbulb moment that overnight changed his belief and trust in Ausloans broker technology. Using broker advisor Ashley was able to turn a deal that was going into his withdrawn section of his CRM into an income of $4809.
In you haven't used it yet, give it a try. Simply punch the app number in, it takes 20 seconds to deliver lenders prepared to buy the loan. Just trust the system.
Watch Ashley's Zink testimonial video to get the full story.
The Takeaway
In 20 seconds Ausloans broker advisor tool was able to turn Ashley from one of broker advisors biggest sceptics to one of broker advisors biggest advocates. In fact he loves it so much he has told his whole team that they must run every app through broker advisor.
Got you interested? Why not book a Zink demo and see it in action for yourself then come back and share your opinion in the comments section below.