How to Offer your Customers Finance on Big Ticket Purchases
by Chris Hopkins, on Sep 24, 2020 11:19:32 AM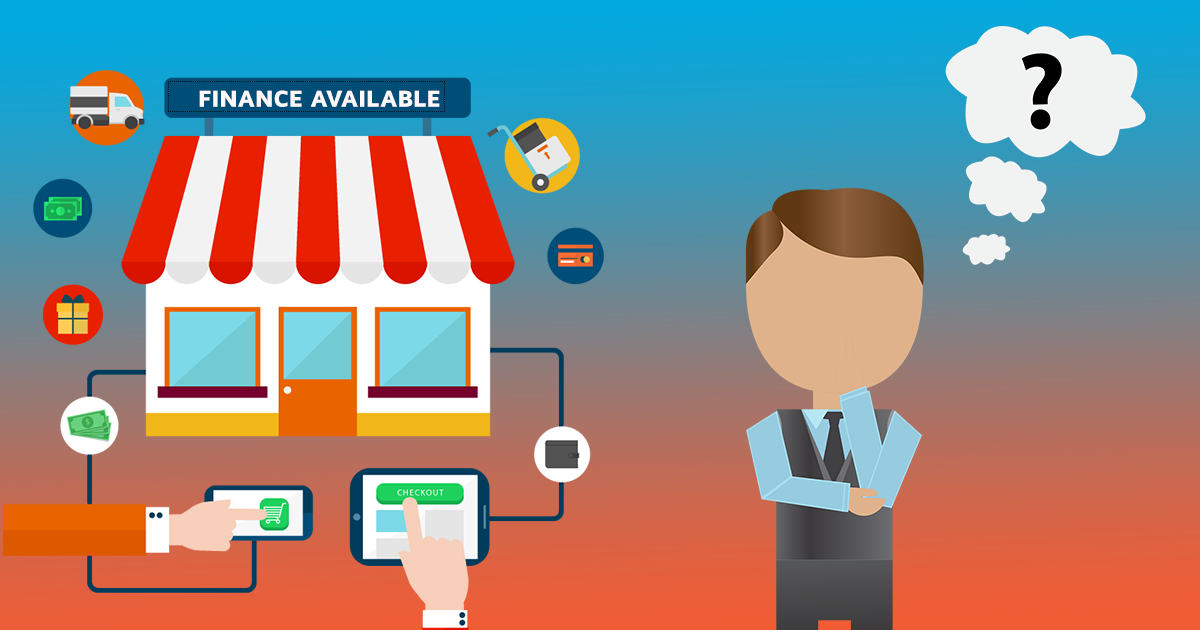 Offering customer financing is proven to boost sales, increase conversions, improve customer loyalty, and drive repeat business. Regardless of what business you're in, whether that be asset sales, home improvements, retail or professional services, the modern consumer expects you to offer financing and providing your customers with a more flexible way to pay attracts new customers.
You know customer financing works. but how do you offer it for big ticket items?
It seems there are a swag of buy now pay later customer financing options for businesses that sell items up to about $2000, but what if these finance products don't fit your big ticket selling needs.
How do you offer (POS) point of sale financing on goods and or services with price tags upwards of $5000?
In this comprehensive guide we walk you through everything you need to know about offering customer financing for big ticket purchases and show you how to get up and running with big ticket POS financing.
How Customer Financing Works
Consumer financing provides your customers with an easy way to pay for large purchases in low monthly instalments. It's designed to attract more customers and convert lookers to buyers.
How? Customer financing helps you avoid sticker shock and present high priced items in an affordable manner. It's pretty simple. Auto and marine dealerships have been using financing to make big purchases affordable for years.
$19 970 or $92.34 week for a car. Which is a more attractive sales proposition?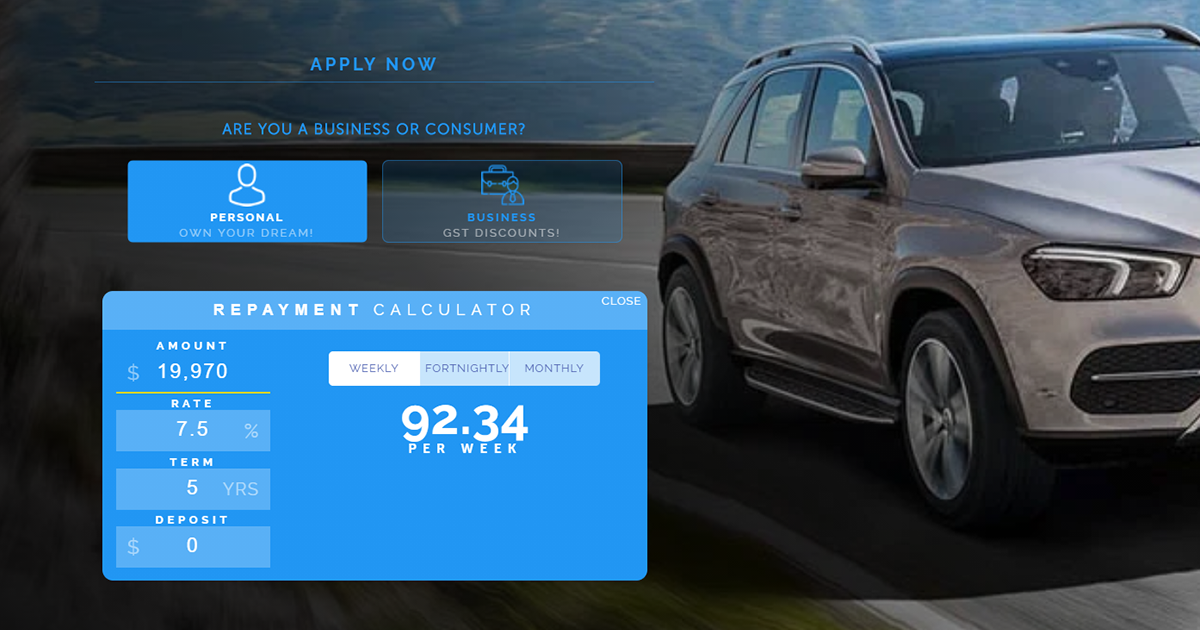 Financing changes the game. Instead of being deterred by a high price tag your customers are often delighted at the affordability of things they only dreamed of buying. The result, increased sales, increased order value and happy customers that refer others.
Here's a few examples of how we help businesses of all shapes and sizes package big ticket items into affordable monthly payment plans.
The Cabinet Shop needed a financing solution for their range of alfresco outdoor kitchens. They had explored a range of buy now pay later solutions but unfortunately these financing options didn't meet their big ticket needs.
The Cabinet shop also explored interest free customer credit card options but felt the cost to their customers and their business was too high.
By partnering with Ausloans, The Cabinet Shop was able to provide customers with a fast way to apply for and secure finance at the point of sale without it affecting their credit score. Here's an example of one of the product offers we helped them package into a financed offer.
The retail ticket price of the Viva outdoor kitchen is $10 499, a price tag that may seem out of the reach of many consumers. However with financing over 60 months the price tag becomes a much more attractive proposition.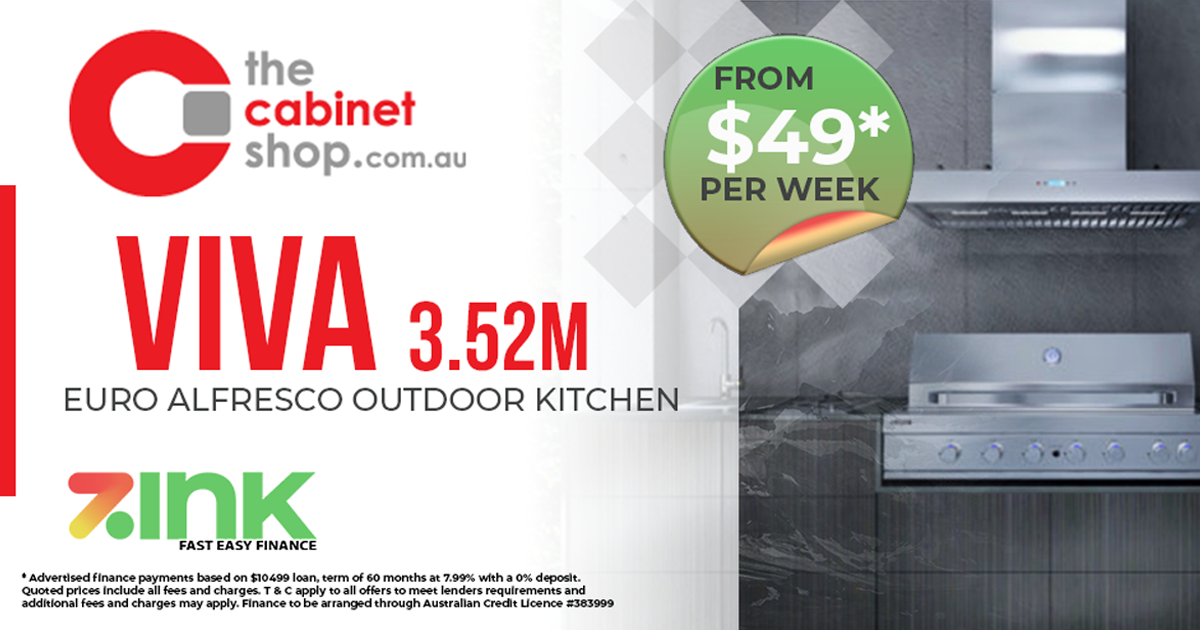 How big ticket customer financing works
Right here's how consumer financing works in six actions.

1. Promote that you offer finance
Step one is to let your customers know that you have finance options available. There are several ways to promote your financed offers including directly advertising financed prices on your website, sharing your offers through social media posts and adding financed offers to your mailing list, just to name a few.
If you're operating a brick and mortar business, prominently placing signage promoting financing as a payment option throughout the store and at the point of purchase can be very persuasive in turning passive browsers into buyers.
2. Customers apply for finance
Most big ticket customer financing solution providers provide a finance application portal that is usually accessed through either a mobile phone app or website landing page.
Whether your customers are online or in-store the process is the same. Direct them to your finance application form. Here they can complete a short application questionnaire to help pre-qualify for finance.
3. Customers get approved for finance
Depending on the financing solution and the amount requested approvals can take as little as a few minutes. With Buy Now Pay Later financing for smaller purchases approval is almost instantaneous, however with big ticket financing the financed sales process can take days or sometimes even weeks.
That's where we come in. With Ausloans Zink's lightning fast finance qualification engine we can usually give your customer an answer on big ticket finance pr-approval within minutes of completing an online application.
4. Customer accepts the finance offer
If a customer qualifies for finance, the lender will usually offer the customer a rate based on their circumstances and if accepted the financing can proceed.
At Ausloans, we are Australia's largest independent finance brokerage and with our consumer financing platform for businesses, Zink, we give your customers access to a pool of over 40 lenders. This is just some of the advantages of partnering with Ausloans. Our large lender pool mens we are able to source the best deals for your customers regardless of their circumstances,
5. You get paid in full Upfront
Once the customer accepts the finance offer and completes the necessary paperwork the full purchase amount it transferred to your business bank account. You get paid upfront and the collection of monthly or weekly repayments is now the responsibility of the lender.
6. Customer makes monthly payments
Once payment is complete, the customer receives the product and/or service they've purchased. Then customer will make monthly payments to the financing company.
Is customer financing right for your business | 5 things to consider
As a business, regardless of your niche, competition is fierce. You're under attack from competitors trying to entice and steal your customers on a daily basis. Offering the right financing options to customers is a proven way to stand out from your competitors but is financing right for your business.
Now that you have an overview of how big ticket customer financing works, the first step is to assess whether or not offering customer financing is right for your business.
To assist you with answering this question we've broken down the question into 4 key considerations.
1. The price of offering customer finance
Before engaging with a customer financing solution provider you need to consider the cost of the sale. Many consumer financing solutions pass the cost of the sale onto the vendor (you).
Lots of financing providers charge business owners a percentage on each financed purchase-- 1% to 5% is regular, yet it can be higher. Then depending upon the type of financing your business will also be charged transaction fees.
For instance, if a client gets financing to purchase a $5,000 couch from your store, and the merchant fee is 3% it actually costs your business $150 to make the sale. If you're using a credit card financing solution you could also be hit with transaction fees as high 7% . The result; the cost of the sale can eat heavily into your profit margin.
With Ausloans finance there is no cost to the business for offering finance. We deal directly with lenders on your behalf and when a customer is approved for finance the money is transferred directly to your bank account. No fees.
2. Can your clients get approved for financing
Every customer financing lender has different lending criteria. These credentials encompass both your customer, such as credit rating and employment standing, and also to the products and services your company offers, like kind of product and services, price of service or product, and so forth.
Several financing services require your customers to be a prime or a prime-plus customer. This typically suggests having a credit rating above 650 without any current unfavourable debt events like bankruptcy, payday loans or repossessions. This can be extremely restrictive to the majority of your customers and can result in negative experiences for both you as the business and your customers.
At Ausloans we are an aggregator and our large lender pool means that we have financing solutions for a wide range of customer profiles not only those with prime credit ratings.
3. Do your products qualify for financing with lenders?
Some funding is restricted to certain items, services, or industries. Ausloans Zink is a solution that fits the needs of most businesses across a number of industries.
To learn more about if your products and / or services qualify for financing with lenders check out our industry financing solutions.
Ausloans customer financing solutions for business
4. Will your consumers use your financing solution
There is no point going to the trouble of setting up a customer financing solution for your big ticket items if your consumers don't use it. Keeping in mind what your consumers' value is important in the process of picking your service provider. Key indicators a good financing service include:
Fast, easy, paperless online application
No customer credit score impact
Fast POS finance pre-approval
Competitive interest rates
Low fees and charges
5. Is the customer financing solution easy to implement and scale.
The final consideration when choosing a big ticket customer financing solution is ease of implementation and management.
If the solution is difficult to implement, requires an initial investment to set up and / or requires training to operate, do you have either the time or human resources to invest in the solution.?
Businesses want something easy and that's where Ausloans Zink is a big winner. Zink is designed to make offering financing easy and fast for both you and your customers. Here's how Ausloans Zink works.
How Ausloans Zink makes customer financing easy.
With Ausloans Zink you can offer your customers an easy way to pay for large purchases in low instalments, with highly competitive finance options your competitors will envy.
1. Register and apply
Simply apply online or reach out to your local Ausloans franchise and we will walk you through the approval process. Don't worry, it is simple. If you have a registered business and an ABN we can have you up and running within 24 hours.
Don't have and ABN? Get one here
2. Start offering finance
Once registered we will set you up with your bespoke, co-branded "Zink" finance application website, match you with a professional broker who understands your business and give you all the tools you need to start promoting your new finance solution.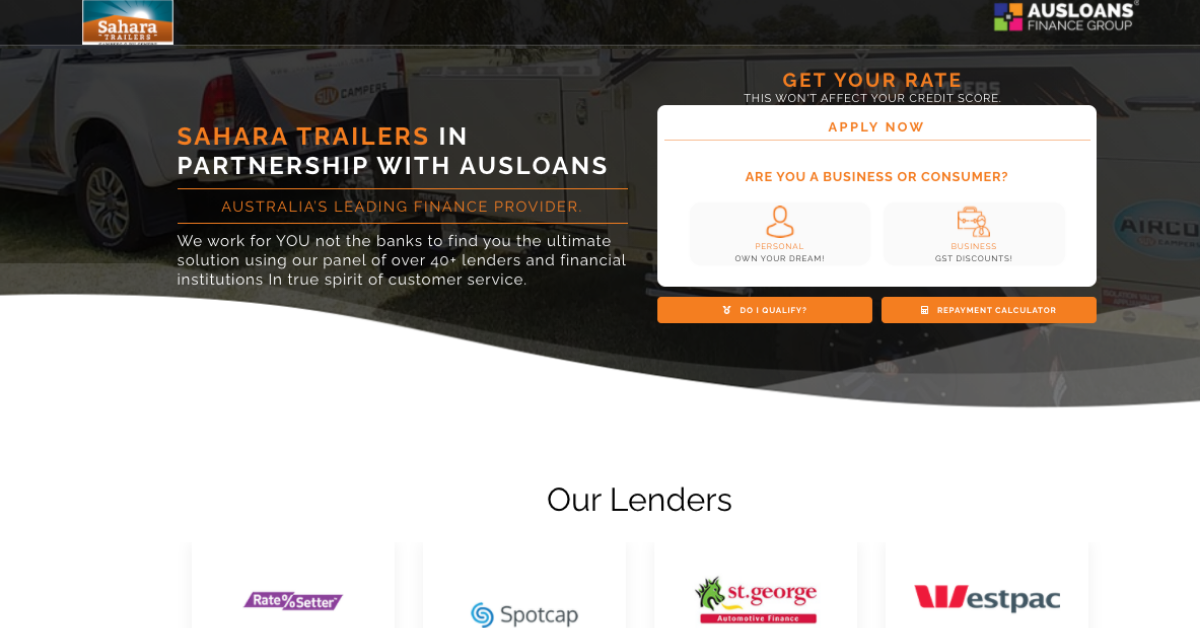 3. Refer your customers
Whether online, in-store or on then road, with your website tools and our promotional resources you can now offer your customers finance anywhere, any time. Simply direct them to your Zink website and get a pre-approval answer in minutes.
4. We find the best deal
Once pre-approved, your Ausloans finance specialist will take advantage of Zink's advanced lender matching capabilities to match your customer with the best finance option that suit their needs and budget.
5. Get paid with ease
When your customer finance is approved and signed we will transfer the full purchase amount directly to you bank account. No merchant fees.
6. Earn commissions
Get rewarded for your referrals. Earn referral commissions on each loan settled. At Ausloans we put more money in your pocket.
Your Customer Experience
Ready to start delivering an amazing customer experience that turns your customers into promoters and referrers?

1. Your customers apply online with our simple paperless application.

2. Easily upload documents direct from their phone.

3. We deliver fast finance approval
The takeaway
Offering the right financing solution to your customers creates a win win situation for you and your customers. For your business a good financing solution can easily increase your sales by 20% -30%. For your customers presenting an easy way to pay for those big ticket purchases in low monthly installments increases affordabilty and satisfies your customers desire for instant gratifiction at the point of sale.
So what are you waiting for? Start offering cutomer finance today and start increasing sales and delighting your customers tomorrow.