Best Asset Finance Aggregator Solution for Mortgage Brokers
by Chris Hopkins, on Mar 31, 2021 1:23:04 PM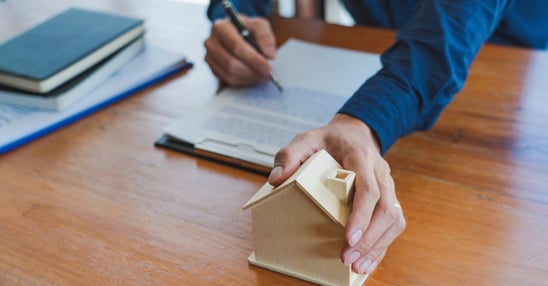 Attention mortgage brokers! In today's inflation-fueled world uncertainty reigns supreme amongst home buyers however, amidst the never-ending doom and gloom of increasing mortgage rate rises, Australians continue to drive forward with both life and asset finance loans.
While there is an ominous grey cloud hanging over the nation's housing market, government initiatives and incentives to drive economic growth and keep the wheels turning are creating opportunities in the asset finance market, and mortgage brokers who are diversifying into asset finance are reaping the benefits.
The asset finance market is continuing to perform well, especially green car loans, as Australians are looking to replace their petrol vehicles with cheaper and cleaner EV alternatives.
So how do mortgage brokers break into the lucrative, asset finance market? Partnering with an established asset finance aggregator is the fastest way to mitigate potential risks and get a foot in the door.
In this post we take a deep dive into the world of asset finance aggregation, explore the benefits of partnering with an aggregator, show you how to start partnering with an aggregator and provide an overview of the advantage of partnering with Ausloans. So let's get started.
Should mortgage brokers diversify into asset finance?
According to an article from Australian Broker, asset finance provides a solid return on investment with positive consumer outcomes.
As a mortgage broker you've already built relationships and established trust with clients to get them into a home loan so it makes sense to leverage this relationship and trust to cross sell asset finance solutions.
On the positive side, basic asset finance loans for cars are straight forward enough for most mortgage brokers to delve into without any additional help. However, when it comes to assets and equipment outside of the consumer automotive space, mortgage brokers may be faced with some knowledge and experience challenges and that's where Ausloans comes in.
Why Ausloans is the best asset finance aggregator solution for mortgage brokers.
At Ausloans we are experts in the asset finance space and have arguably the most intuitive asset finance software in the industry - Zink.
Zink has a lightning-fast credit assessment engine that delivers an instant credit report across the 5Cs of finance. However, it is Zink's broker advisor tool that is the real game-changer for mortgage brokers looking to diversify into the asset finance space.
Broker Advisor replaces the need for a mortgage broker's tacit knowledge. It fast tracks the asset finance lender knowledge journey for mortgage brokers and with one click of the mouse delivers a detailed breakdown of all asset finance lenders prepared to buy the loan.
For mortgage brokers, inexperienced in the asset finance space, the real power of Zink lies in the detail it delivers. Not only does it deliver a list of lenders prepared to buy the loan it also shows the term of the loan, rates on offer, total amount each lender is prepared to offer, commissions available and, most importantly a probability score of the loan being approved.
For mortgage brokers who may be unfamiliar with asset finance lenders this is the magic key that opens the door to successful first-time submissions to lenders.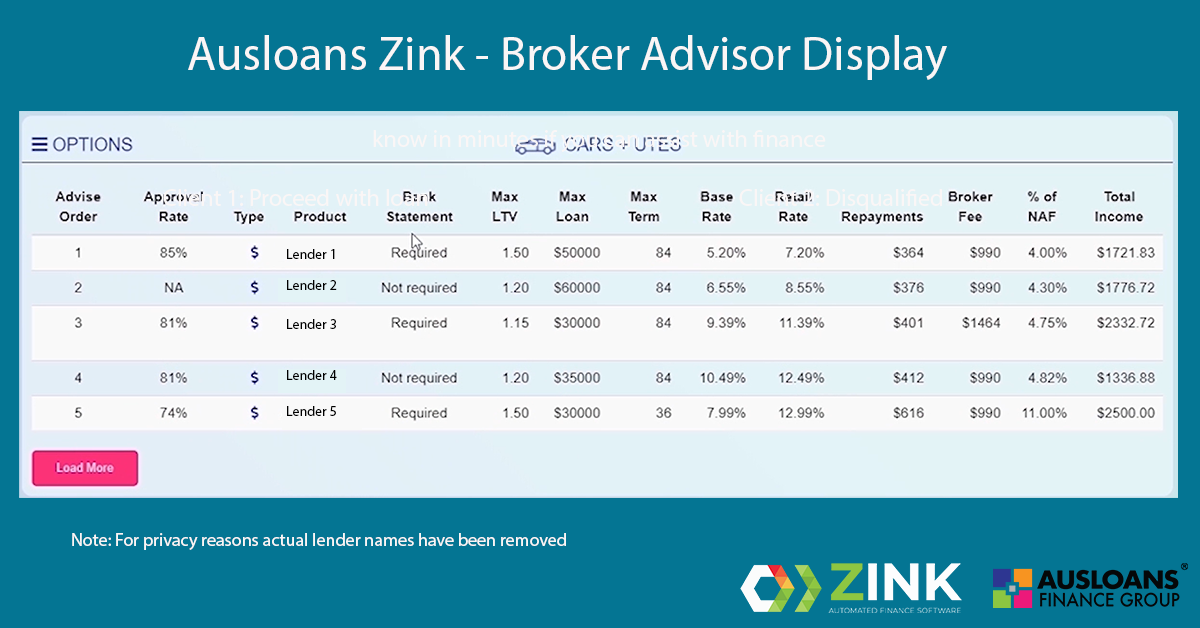 Zink makes asset finance easy for mortgage brokers
To illustrate the power of Zink asset finance software and the ease with which mortgage brokers can quickly pivot or diversify take a look at how one mortgage broker not only transitioned into asset finance but also won our 2020 broker challenge. Read his full story here.
How mortgage brokers can partner with Ausloans
Getting started in the asset finance marketplace is easy with Ausloans and requires no upfront investment or ongoing platform or software access fees.
Of course, we expect you to conduct your due diligence before diving into a new relationship and recommend you explore our broker aggregator solutions to learn more about the benefits of partnering with Ausloans.
From there you can decide if Ausloans are a good fit and either book a free demo of our Zink software or alternatively dive straight into registering your interest in becoming an Ausloans asset finance partner.
In the interim download our handbook to learn more about Ausloans and the solutions we offer.
We look forward to chatting with you soon.